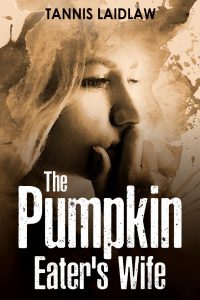 The Pumpkin Eater's Wife 
by Tannis Laidlaw
Jeanie knows one thing.
She can't get away from her abusive husband.
She tried. And failed. Has scars to prove it.
So, what about doing something more … permanent?
She plots; she plans. Each time he drinks, she watches and waits. Will he threaten? Belittle her? Disparage her? Roar at her? Grab whatever is handy and…? Or will he fall into one of his rare drunken stupors?
Is murder ever right? Can Jeanie get the new life she so desperately wants?
You'll love this noir tale because, if you've ever seen a toxic marriage which is an inescapable trap, you find yourself wishing she should … she really should….
Get it now.
………………………………………………………………………………………………………
Available as an ebook here…
US: On Amazon
UK: On Amazon
Canada: On Amazon
Australia: On Amazon
Everywhere: On Smashwords