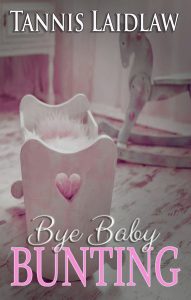 Bye Baby Bunting

by Tannis Laidlaw
(Recently awarded a BRAG Medallion for excellence.)
Newly released by Junction Publishing, August, 2018
The back cover says;
"Jemma could hear the murmur of voices but no matter whether she held her breath to hear better or she stopped all movement, she couldn't make out what was being said. Footsteps came up the stairs.
'The police. For you.'"  (from Bye Baby Bunting)
University student Jemma Howell's life has turned upside down: she's pregnant and her boyfriend has died. A lawyer has Jemma sign away the child to her dead boyfriend's parents, the wealthy Winchesters. Some six months after giving birth, Jemma is obsessed with her baby's welfare.
A chance opportunity…
a split-second decision…
…now she's on the run.
Detective Constable Tim Finlay is assigned to the Winchester kidnapping, his first big case. In the course of the investigation, he and his partner uncover deeply hidden secrets of the Winchester family. For Tim, the difference between right and wrong becomes uncomfortably blurry.
The book's characters include a neurotic woman addicted to weight control drugs, a crusty senior police sergeant who makes his own rules and a highly competent but enamoured banker who is willing to risk his career and his freedom for the sake of a secret love.
BYE BABY BUNTING is a page-turning psychological thriller that explores society's attitudes to single parenting, adoption and the laws that affect all concerned.
 "…I was able to take this story in and focus on a vivid, tightly-constructed and perfectly-paced journey which effortlessly spans generations, continents, and cultures. And learned a bit about myself in the process – and that's the hallmark of good literature." – J. Brooks
Bye Baby Bunting is published (2018) by Junction Publishing.
To buy it on  Amazon, click on your local outlet: