Bye Baby Bunting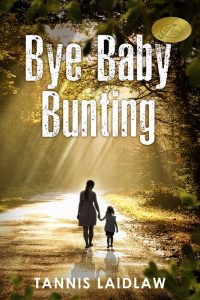 by Tannis Laidlaw
(Recently awarded a BRAG Medallion for excellence.)
Newly re-released.
The back cover says;
"Jemma could hear the murmur of voices but no matter whether she held her breath to hear better or she stopped all movement, she couldn't make out what was being said. Footsteps came up the stairs.
'The police. For you.'"  (from Bye Baby Bunting)
An unwanted pregnancy.
A kidnapping.
Escape…
It's 1963 and university student Jemma Howell's life has turned upside down: she's pregnant and her boyfriend has died. She is manipulated into giving her unborn child up for adoption by her late boyfriend's parents, the wealthy Winchesters. Some six months after giving birth, Jemma is obsessed with her daughter's welfare.
A chance opportunity…
a split-second decision…
…now she's on the run.
Detective Constable Tim Findlay is assigned to the Winchester kidnapping, his first big case. He uncovers deeply hidden secrets of the Winchester family.
He struggles with the age-old problem. What is right for this child? What is wrong?
You'll be hooked by this page-turning psychological thriller because of its twists and turns within and outside of the law.
Get it now!
 "…I was able to take this story in and focus on a vivid, tightly-constructed and perfectly-paced journey which effortlessly spans generations, continents, and cultures. And learned a bit about myself in the process – and that's the hallmark of good literature." – J. Brooks
To buy it on  Amazon, click on your local outlet:
USA: Click here for the ebook and here for the paperback in the USA
UK: Click here for the ebook and here for the paperback in the UK