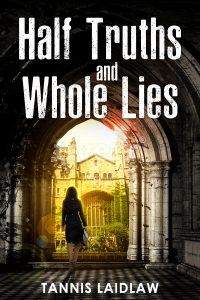 HALF TRUTHS AND WHOLE LIES  
by Tannis Laidlaw
Ever had a bully for a boss?
Sophie Rowan has been head-hunted from Colorado to lead a research project at a prestigious medical school in London. It's a dream come true – she loves being in England; she's to work with an internationally acclaimed professor and she's researching a topic dear to her heart.
But cracks soon appear. Sophie hears rumours that the prof is an amoral cheat and her reputation is merely window-dressing. When the prof  tries to compromise Sophie's research project, those rumours she'd heard but dismissed become shockingly real.
When Sophie starts delving into the prof's past, she is all too aware of the stakes; her own career could be destroyed through the power the prof can exert, a professor who will fight tooth and claw to protect her well-crafted reputation, backed by a university system which protects its own. Can Sophie both expose the prof and at the same time protect vulnerable students?
Page by page Half Truths and Whole Lies digs beneath the calm of university life to reveal how the academic dictum of "publish or perish" can result in exploitation and treachery. It's an emotionally captivating read which will cause you to view life in the ivory tower through very different eyes.
"A wonderfully written story about a woman finding her place in the world after a life of being pushed around and landing a position with the toughest bully she's met yet. With flashbacks from her past life filled with manipulation and worries mixed in with her present situation, the story really comes to life. Absolutely captivating. Thoroughly recommended!" – Juggy in an Amazon review
……………………………
Hey, there are other readers out there who want to hear how you found Half Truths and Whole Lies. How about writing a short review on Amazon so others know what you think? It can be a one-liner! Click on a link above.
Thanks!
–Tannis–