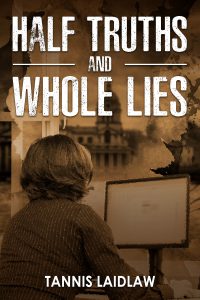 HALF TRUTHS AND WHOLE LIES  
by Tannis Laidlaw
What if you were headhunted across the world to a dream job? But what if, on arrival, you start to suspect your charming boss is a covert micro-managing narcissistic bully? Should you try to prove it? Gather evidence to knock her off her perch? The perch she'd constructed on the backs of her students?  How far would you be willing to go?
Welcome to the world inside a prestigious medical school in the heart of London. Sophie loved being selected to head up a team researching connections between anxiety and addictions.  But soon she hears murmurs that the prof never researched the issues she is famous for, the research upon which her international reputation is based.
In spite of her concerns, Sophie is determined to carry on regardless. She has an important job to do; everything will be fine.
It's not.
She must become involved. Or yet another student's career will be destroyed.
Then the prof's searchlight focuses on Sophie herself…
……………………………
To buy the electronic copy of half truths and whole lies (Kindle edition) from the UK Amazon.co.uk site for only £1.99, follow this link: http://amzn.eu/1pkSRu5
In American dollars and using the USA Amazon.com site, the Kindle edition costs just $2.99. Click here: http://a.co/e4nUjzb
In Australia and New Zealand, $3.99 Aussie dollars: http://www.amazon.com.au
In Canada, for $3.99 : http://www.amazon.ca
Hey, I'd love to hear how you found half truths and whole lies. How about writing a short review on Amazon? It can be a one-liner!