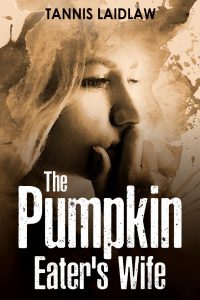 The Pumpkin Eater's Wife
by Tannis Laidlaw
Have you ever wanted to walk away? Even though you leave with nothing?
Jeanie Connor turns from the crumpled body lying at the foot of the stairs within her elegant Brisbane home. Quietly she leaves, stepping into the pre-dawn empty streets. Helped by a change in hair colour, clothing style and grim determination, she thinks this time, finally, she can leave her toxic life behind.
Working as a cleaner, she keeps a constant watch for reports of her husband's demise. If he's survived, he'll find her. He always has. She bears hidden scars to prove it. If he's dead, she's a murderer.
A chance to steal an identity, and she has the possibility of  life anew. Can Jeanie not only evade her own past but the dangerous complexities of the woman she's pretending to be?
Reaching deep into the psyche of those who've experienced a noxious relationship, The Pumpkin Eater's Wife is psychological suspense as written by a psychologist, and it's compulsive reading.
. .
………………………………………………………………………………………………………
Available as an ebook…
On Amazon.com for $2.99:
  Or on Amazon.co.uk for £2.49
 https://www.amazon.co.uk/pumpkin-eaters-wife-psychological-suspense-ebook/dp/B06XK2QVGH/ref=sr_1_1?s=digital-text&ie=UTF8&qid=1489613772&sr=1-1&keywords=the+pumpkin+eater%27s+wife%3A+a+novel+of+psychological+suspense
Or for Kiwis and Aussies, on Amazon.com.au for $3.99
Or for Canadians, on Amazon.ca for $3.99
 https://www.amazon.ca/s/ref=nb_sb_noss?url=node%3D2980423011&field-keywords=the+pumpkin+eater%27s+wife%3A+a+novel+of+psychological+suspense