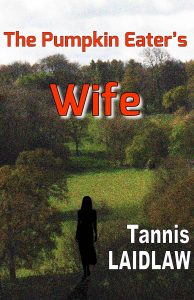 THE PUMPKIN EATER'S WIFE
What makes murder right? Is there ever justification for killing a spouse?
Jeanie Connor knows her toxic life is about to destroy her.  After more than twenty years of abuse kept secret behind her elegant front door, she decides there is no way out except suicide or premeditated murder. She chooses life and devises a plan, meticulous to the last detail, totally aware of the consequences.
Now she must get away from Australia – and fast – before her husband's loyal and corrupt police friends track her down. She steals a passport and escapes to safety in New Zealand.
But deep within her psyche lurks the buried debris of her past which ravages her sleep and chafes at her memory banks.  It doesn't stop there. The woman whose passport she stole had baggage too, baggage which threatens Jeanie with treachery and fraud. She must reach deep into the basics of her very being to summon the resources needed to survive and triumph.
Jeanie's story is a must-read for everyone who has railed against abusive men who ensnare and dominate their partners. When a woman dares to exact justice, what happens next? This is Jeanie's story. . .
………………………………………………………………………………………………………
Available as an ebook…
On Amazon.com for $2.99:
https://www.amazon.com/pumpkin-eaters-wife-psychological-suspense-ebook/dp/B06XK2QVGH/ref=la_B008EJSDDK_1_7?s=books&ie=UTF8&qid=1489611790&sr=1-7
  Or on Amazon.co.uk for £2.49
 https://www.amazon.co.uk/pumpkin-eaters-wife-psychological-suspense-ebook/dp/B06XK2QVGH/ref=sr_1_1?s=digital-text&ie=UTF8&qid=1489613772&sr=1-1&keywords=the+pumpkin+eater%27s+wife%3A+a+novel+of+psychological+suspense
Or for Kiwis and Aussies, on Amazon.com.au for $3.99
https://www.amazon.com.au/d/B06XK2QVGH/ref=sr_1_1?s=digital-text&ie=UTF8&qid=1489614331&sr=1-1&keywords=the+pumpkin+eater%27s+wife%3A+a+novel+of+psychological+suspense
Or for Canadians, on Amazon.ca for $3.99
 https://www.amazon.ca/s/ref=nb_sb_noss?url=node%3D2980423011&field-keywords=the+pumpkin+eater%27s+wife%3A+a+novel+of+psychological+suspense