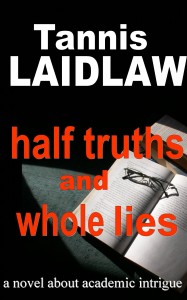 by TANNIS LAIDLAW
Read this author interview of Tannis Laidlaw by BlogHop "My Next Big Thing…"
 1: What is the working title of your book? 
 My upcoming novel is called Half Truths and Whole Lies. It should be on Amazon in a month or so, depending upon comments from my beta-readers.
2: Where did the idea come from for the book?
 This book takes place in academia, an environment with which I'm familiar having worked as an academic researcher off and on all my working life. Over the years I've participated in a fair few research projects in universities around the globe like my character Sophie. As you can guess, it was a natural to write about some of the shenanigans in one or other of those institutions and expand them….
3. What genre does your book come under?
 Genre is one of those simplistic concepts that seems to be there for marketing purposes. Nuff said.
There are elements of this book which fit classifying it as a mystery or a psychological thriller (with a soupçon of romance) or maybe you can just classify it as a 'contemporary novel'. Certainly its setting in academia would intrigue anybody who's been around universities or higher education. There are many tales hidden within those hallowed halls.
4: Which actors would you choose to play your characters in a movie rendition?
 Mmmmm, maybe Merryl Streep as Sophie. Maybe Kenneth Branagh as Jeremy. Noreen? What about Joanna Lumley…or is she too pretty?
5: What is the one-sentence synopsis of your book?
 When American psychology researcher Sophie Rowan is head-hunted to a prestigious English university, she expects both stimulating work and relief from family pressures. Little does she know that she would be entering a world of lies, intrigue and sexual manipulation, hidden behind the façade of respected research publications and academic books.
Oops, that's two.
6: Is your book self-published, published by an independent publisher, or represented by an agency?
 Our consultancy company, 'Forth Estate Ltd', has published my last two books (my novel Bye Baby Bunting and my non-fiction book FULL STOP – eat until you're full and stop gaining weight). Yes, I've decided that Half Truths and Whole Lies will be published by Forth Estate too.
I do have a great agent who is handling several more of my unpublished books and he is now in serious negotiations with a major publisher. So, fingers crossed. I'm busy writing the sequel to the book that originally piqued their interest. As you can see, I'm straddling the line between traditional and indie publishing with a foot in each camp. I love the idea of indie publishing but sadly, as a reader, I dislike the lack of quality control. I guess we all have discarded a fair few half-read indie books that have failed to capture our interest or contain serious flaws of one type or another. But we also have read many which are very good reads indeed  – and that hope keeps me, as a reader, still buying indie authors in between buying books I'm more sure will be of a high standard from traditional publishers.
7: How long did it take you to write the first draft of your manuscript?
 The first draft took about a year to write but I was working at a full time 'day job' at the time. Now that I'm writing full time, a new book-length story is not taking that amount of time, for the first draft, anyway. I had put this one (Half Truths and Whole Lies) aside while writing the other two books (Bye Baby Bunting and FULL STOP) and have just come back to it for drafts two through – what? – maybe 10? Luckily I love the re-writing process. It's great fun coming back to a book you're writing – you can fall in love all over again!
8: What other books would you compare this story to within your genre?
 There's that concept 'genre' again. I love to read Minette Walters, Barbara Vine / Ruth Rendall, Nelson DeMille, Michael Ridpath… I could go on and on… but is this story like any of theirs?
9: Who or what inspired you to write this book?
 Well, I have to admit certain aspects of Noreen's character came to me fully-fleshed out based on some not-so-attractive personality characteristics of a couple of academics I stumbled across in my academic career. Even though Noreen is not based on a single real person, some of the incidents described in the book did happen. And, as an aside, some actual incidents that happened to me or my colleagues were so far-fetched they could never be included in a fictional tale without readers complaining my imagination had gone ballistic!
10: What else about your book might pique the reader's interest?
We experience life in London through Sophie's eyes, a trip to Oxford and Henley and the Oxfordshire countryside. But we have to hold on tight as life becomes a roller-coaster ride for Sophie. She struggles to survive in the university long enough to unmask the con she's discovered and stop the exploitation of students that has persisted for too long.
Who's next on the NEXT BIG THING: BLOG HOP?
So glad you asked!
Below you will find authors who will be joining me by blog, next Wednesday, April 24th. Do be sure to bookmark the websites below and add them to your calendars for updates on Works in Progress and New Releases! Happy Writing and Reading!
Thomas Ryan (he's written 'The Field of Blackbirds'):   http://thomasryanwriter.com/
Bronwyn Elsmore (she's written 'Every Five Minutes' and 'Seventeen Seas' amongst others):  http://www.flaxroots.com/
Helen McNeil (she's written 'A Place to Stand'): http://www.helenmcneil.com/
If you'd like to read my novel Bye Baby Bunting, click here:
USA paperback: http://amzn.to/13kvIfu or for the Kindle: http://amzn.to/Yw75p5
UK paperback: http://amzn.to/12nXoxf   or for the Kindle: http://amzn.to/15niGy8
or
FULL STOP – eat until you're full and stop gaining weight, click here:
USA paperback:  http://amzn.to/14Xfryc  or for the Kindle: http://amzn.to/Z1gKEd
UK paperback: http://amzn.to/12wg50Z   or for the Kindle: http://amzn.to/12wgeRY