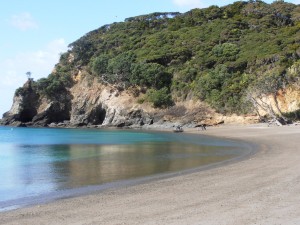 We have our Resource Consent for building the house at The Bay! Yippee!
It finally seems to be coming together. Our own Grand Design is going to happen. At last.
It all started almost twenty years ago. One November while eating lunch at the hospital across the road from the Medical School where I was finishing my PhD, I saw an advertisement for a section of land overlooking a deep inlet up in the northern parts of New Zealand in an area appropriately called 'The Far North'. I rang the vendors and arranged to visit the next weekend, taking my boy-friend (later to become husband) with me.
The weekend was hardly propitious – rain off and on and cool for November. We travelled three hours to the section that Saturday. The view was outstanding, a complete 180 degrees of water view. But it was a long, long drop down a cliff to the water, and we're water babies. Discouraged, we drove to a friend's bach at Oakura, enjoyed a social evening and went to bed. The next morning, we fixed sandwiches, in spite of the weather being not exactly conducive to picnicking, and re-visited the section to have one last look, just in case we had changed our minds overnight. After all, it was a fabulous opportunity to acquire a waterfront section with amazing views. We spent another hour looking and debating the strength of wanting a seaside section, a beautiful view, a beach for swimming – all at an affordable price. Our conclusion? We would have to compromise.
We set off north to make a grand circle of driving back to the city well to the south. Hey, why not? Lunchtime came and we stopped at a lovely bay – yes, lovely even in the rain – with black volcanic rocks jutting into the sea on either side of a sheltered sandy beach. Mike spotted a 'For sale' sign on the uphill side of the road. We climbed over the fence with our sandwiches to shelter from the misty rain under a gigantic pohutakawa tree, and munch and look. We couldn't see the road from our perch on the massive tree roots as it was hidden below us but we could see the entire bay and a large tree-covered peninsula to the north. And we could look out at the arrow straight line of the Pacific Ocean's horizon to the east (next stop, South America). Totally outstanding.
'Wonder what they'd want for this section?' I asked.
'Half a mil? A million?' Mike said. 'Paul McCartney could build something really grand here. Or Kiri Te Kanawa.'
'She already owns a place up the road,' I said. But I agreed. This was millionaire territory. Still, I copied down the telephone number. Curiosity, nothing more.
The real estate salesperson told me the price over the telephone, only a small percentage of what we'd figured. I almost dropped the receiver; I just about yelled 'sold!' right then and there. It was not only within our budget, it was not even at the top of it! Instead, I coolly – oh-so-coolly – arranged for us to meet the vendor to negotiate.
We walked away from that meeting having brought the price down a few thou. Correction – we didn't walk away from that meeting – we floated away with the sales document clutched in our hot little paws.
As I said. Twenty years ago. We've been spending weekends at our caravan on the site ever since. Really using it – every fortnight in the summer and probably every three weeks in the winter, plus spending every Easter, Christmas and other assorted holidays there for twenty years. We love it.
And now we're going to build. We're calming down our working lives and ready to put up a boutique (read 'small yet uniquely designed') home that will be tucked into our 2000 m2 (half an acre) hillside, not two minutes from the beach.
We have Resource Consent! That means we've fulfilled the arduous requirements of 'Coastal' regulations plus those of 'Outstanding Landscape'. Yes, even the Far North Council thinks our place is pretty darn special. We do too.
To be continued…
You'll notice I mentioned that I was pursuing a PhD way back when. My new mystery 'Half Truths and Whole Lies' takes place in academia. See the blog below about it.